Mai Theme Simplifies Creating a WordPress Website
Trusted by over 10,000+ Websites
Mai Theme provides a powerful, flexible, customizable foundation based upon WordPress and Gutenberg that delivers the features and options you need—even those you don't know you need yet!
Stunning Website Templates
Perfect for tech-savvy tinkerers
Get all of the stunning Mai Theme WordPress templates powered by the Mai Engine plugin in one handy dandy bundle.
One-Click Install
Load sample content that matches the demo in mere minutes.
Our focus on site speed and one-click theme setup are technology requirements bloggers need to successfully make money blogging.
Starter Sites
Get a head start and create a unique website design.
Everything you need to start a new website or give an existing website a bold new design with access to the Homepage Pattern Collection in the Mai Pattern Library.
Mai Theme Combines Design and Functionality
Mai Theme is the base structure for all our website templates, layouts, patterns, and blocks. Mai Theme includes our Homepage Pattern Library.
Mai Theme simplifies and extends the power of Gutenberg by providing powerful blocks, layouts, and patterns that empower you to create unique, interesting page layouts, and one-of-a-kind websites from our website templates and block pattern library.
Trusted by 10,000+ Users
More than 10,000 websites have used our themes, including dozens of sites we custom-built with Mai Theme ranging from 100,000 to 100,000,000+ monthly pageviews. You can count on Mai Theme to be the WordPress platform to grow your brand on.
Everything You Need to Build a Website
Mai Theme includes everything you need to build a website.
Mai Engine
Mai Engine is our WordPress plugin that adds extensive customization options and features to individual blocks, patterns, and layouts within a template.
Mai Engine provides the underlying technical capabilities that give you control over every detail of your site—and it comes with all of our starter site design templates at no extra cost.
Think of Mai Engine as the foundation that supports a house.
Mai Theme
Mai Theme is our global website template that is built on top of (and bundled with) our powerful Mai Engine Plugin.
Because Mai Theme is used as the base structure for all of our starter site designs, the blocks, patterns, and layouts in each template are interchangeable and patterns from our pattern library can be dropped in without requiring extensive customizations.
Think of Mai Theme as the framing, plumbing, and electrical parts of a house.
Mai Starter Sites
Mai Starter Sites are complete website templates with a unique website design. Starter Sites are built on top of (and bundled with) Mai Theme.
Our website templates are called starter sites because they include everything needed to start a new website or give an existing website a bold new design. In a few clicks, create a site just like the demo complete with sample content!
Think of a Mai Starter Site as the walls and interior and exterior design of a house.
WordPress Is Changing Fast
Gutenberg blocks are both easy, and overwhelming, to use. With so many block libraries and block plugins, how do you know which ones to use? Will it work right the first time? Will it match the style of your website?
The Need for Cohesion
You can do more with WordPress with Gutenberg. But the barrier to entry has gone up.
We are sure you experienced this: you copied and pasted a free block from a library on the Internet into your theme only to find the design went haywire.
Worse yet, you now have to repeat that process for every blog archive, testimonial, portfolio product, or display ad that you want to add to your site. The lack of cohesion and functionality isn't limited to this example, it is probably happening with every aspect of your website.
When you buy other products or try to combine free elements, it's on you to figure it out and that can take hours. When you choose Mai Theme, everything just works together.
Mai Theme got it right. Its amazing simplicity and powerful customizations finally got me to embrace Gutenberg. I'm using Mai Theme on my new business websites and you should too.
Brian Clark
Launch your site faster with the best collection of website templates and starter sites available for WordPress.
All of our website templates are modern, clean, responsive, highly customizable, and eCommerce ready—and they're built with accessibility in mind. Our goal is to make it simple for you to create a modern website that is easy to manage and update, reflects your personality and style, and sells your products and services for you.
With our website design templates, you can get a head start on building the perfect website for yourself.
Our website templates include:
Flexible content blocks you can display in any order to create unique, eye-catching page designs
Extensive customization options that encourage you to take control of the finer details that elevate your brand's visual design
Big beautiful images that can be displayed in nearly any orientation, shape, or size
A quick setup wizard and read-to-do sample content so you can get your site up and running just like the demo in minutes
Pre-built testimonial, call-to-action, email newsletter subscription, image grid blocks, and more
Typography options that ensure your type matches your brand and visual style
Color controls that ensure your site design doesn't overshadow your photos
Support from an experienced, highly-qualified team that wants you to stand out and succeed
Mai Theme Let's You Control the Design
With the WordPress block editor and Mai Engine, the back-end editing experience and front-end design of your site are nearly identical, so it's easier and faster to get things done. No more confusing widgets, shortcodes, or editing functions and CSS files.
Easy and Fast to Customize
Our WordPress templates are block-based and designed to provide ultimate flexibility. Mai Theme templates make it easy to change up everything from the logo, colors, fonts, and images to block designs, page layouts, landing pages, and content.
Plus, when you purchase the Mai Design Pack, you get every one of our block patterns so you can pick and choose your favorite features and combine them to create a unique site you truly love.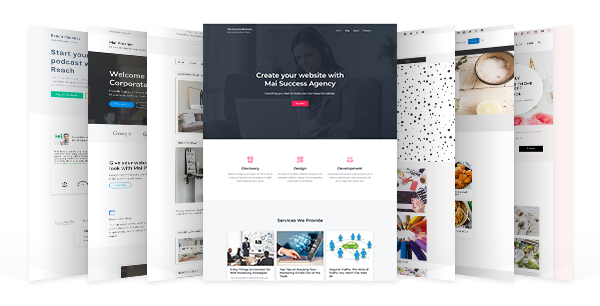 Meticulous Control Over Details
Our Mai Engine Plugin, included with every purchase, brings extensive controls to WordPress that empower you to customize everything on your site down to the tiniest of details.
Want icons instead of images, four columns instead of three, image backgrounds, centered text, or content blocks that reach beyond the margins? Not a problem—and in most cases, you can get it done in just a few clicks. No custom code or expensive developers needed.
Retina-Ready, Mobile Responsive
Building a successful digital brand, growing an audience, and reaching your goals, means your site needs to look amazing and be easy to use on every browser and on every device regardless of size or type.
All Mai website templates are mobile responsive so your content looks beautiful and is easy to engage with on any device. They also come retina-ready so they render crisply and beautifully on high-resolution screens.
"People constantly ask me how to get started blogging. Over the past decade, I've tried and tested dozens of tools, platforms, and resources and none compare to Mai Solution, which is now my "go-to" recommendation for building a great-looking, high-performing website at a fraction of the cost. I highly recommend it! and count on Mai for Wellness Mama."
No Website Left Behind
From website templates and reliable hosting to premium plugins and unrivaled support to courses and community, we've got your back every step of the way with a technical infrastructure that you can count on.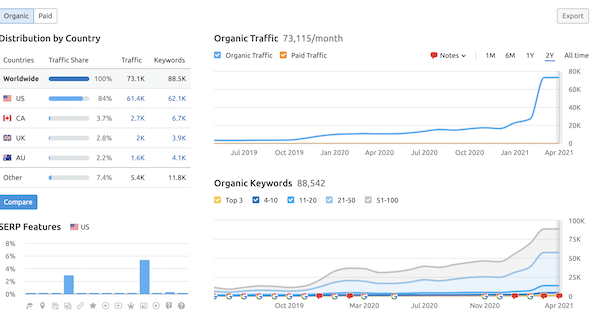 Optimized for Search Engines
From the code that powers our WordPress plugins and website templates to the designs that provide a gorgeous foundation for your big vision, everything we create adheres to current code standards and web development best practices.
All Mai design templates and individual block components are optimized not only for search engine friendliness, performance, and speed, but to also deliver premium user experiences that will have visitors coming back to your site again and again.
Lightning Fast Site Speeds
As search engines get smarter, SEO becomes more about good content and fast page load speeds than keyword hacks.
With the introduction of Google's Core Web Vitals, having a fast website is more important than ever. You can get there quickly and easily with a Mai website template. All of our templates exceed the Core Web Vitals recommendations set by Google. In fact, Mai ranks 100/100 in Lighthouse tests and 99/100 in Google Page Speed tests.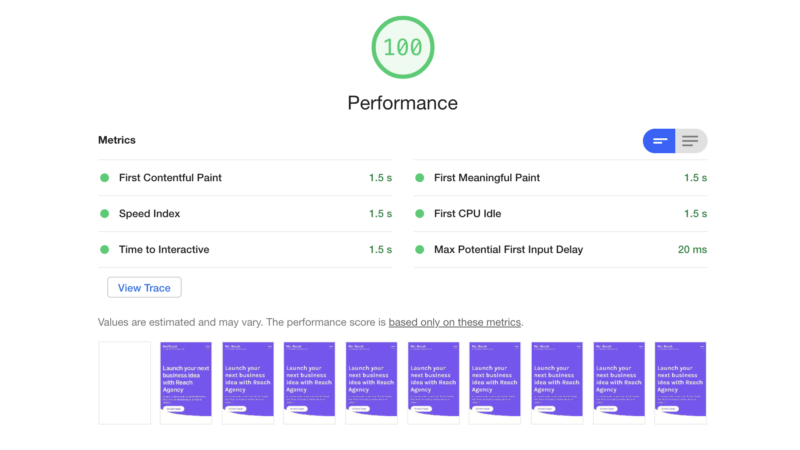 Easy and Quick to Set Up
Installing themes and templates can be a nightmare, especially when trying to get your site to look like the demo site that inspired you to buy it in the first place!
Our Mai Setup Wizard solves that problem by loading sample content and component blocks that match the demo in mere minutes and just a few clicks. Updating an existing site? You can use our Mai Setup Wizard to import sample content without overwriting any of your existing content.
Mai Makes Customizing Your Site Easy
You need a website platform you can count on—one that is easy to set up, use, manage, and update—because the less work your website requires, the more time you have to move your business forward, help more people, and do what you love.
"We support small businesses with their content and marketing. A constant issue our clients face relates to website struggles. We're so pleased to be able to point them to Mai Solution. It resolves a set of common issues small businesses face when it comes to their sites. Mai has made the web a fun place to be again!"
This has been such an amazing experience! I knew I needed help, but I just didn't know where it was going to come from. You guys have made my website look so professional, I can't wait for people to see it! My new site looks AMAZING! The help I have received from everyone has been so great. I am so happy to have you guys on my team. I am so dedicated to making this blog a success, and I think with BizBudding's help, that will actually be possible!
"People constantly ask me how to get started blogging. Over the past decade, I've tried and tested dozens of tools, platforms, and resources and none compare to Mai Solution, which is now my "go-to" recommendation for building a great-looking, high-performing website at a fraction of the cost. I highly recommend it! and count on Mai for Wellness Mama."
You Don't Have to Figure It Out on Your Own
Our goal isn't to sell you website templates and leave you to fend for yourself, trying to figure out how to get started, customize your site, or build a successful blog or business on your own. Our goal is to help you every step of the way.
Friendly Support
Getting you unstuck and on your way
When you need us, we are here for you. Live. Our support team is fast, friendly, and reliable, which is why we have so many 5 star reviews.
Mai Community
Connecting you with like-minded folks
The Mai Blogging Community was created to not only bring bloggers together for extra camaraderie and support, but to provide a place where our team can share all of our expertise and knowledge with you.
Mai Courses
Getting started has never been easier
Gain behind the scenes skills needed to have a highly-trafficked blog as well as how to get started, set up your website, build a brand, organically grow your audience, and begin to monetize.
Check Out Our Customer Showcase!
The Mai Customer Showcase is a collection of customer sites powered by Mai! Browse the showcase to see examples of customized website templates from businesses just like yours and check out completely custom sites that were built with Mai to see what's possible for your own site.
Mai Theme FAQs
Still not sure Mai Theme is right for you? Have a few questions? Take a peek at some of the most frequently asked questions from our customers…
How many sites can I use the Mai Design Pack templates on?
With the Mai Design Pack, you get unlimited site access, which means you can use any of our website templates and stunning designs on as many sites as you wish. Plus, as long as your subscription is active, you'll automatically get access to new features and new templates released!
What kind of support do you offer? How fast can I expect a response?
Our support team is unrivaled not only in our passion for helping our customers find success but in the speed of our response. Our average support ticket response time is within one business day, which means for the first year, you get the help you need when you need it.
What is the Mai Engine Plugin that's included with my website design?
Unlike most WordPress themes, we separate design and functionality to protect your website. All visual design customizations happen within the design template, while the Mai Engine plugin handles the functionality. This means you benefit from new updates without breaking your site.
How easy is it to customize the Mai templates to fit my brand and unique style?
The Mai Engine plugin brings extensive customization controls to WordPress that make creating a site that fits your style and personality easy and fast. You have the control to easily manage the tiniest of details—while setting brand standards such as a color palette to consistently create blocks and content that match your brand design.
Are all of the Mai Website Design Templates powered by WordPress?
Yes! With WordPress now powering 40% of all sites across the web, it is our platform of choice because it keeps site owners in control of their sites and content. All website templates included in the Mai Design Pack are powered by WordPress, our Mai Engine plugin, and a collection of Mai premium plugins.
How are the Mai WordPress templates built? Do they use blocks?
All Mai website templates are built using a modern, component-based approach to design. This means every template is fully compatible with the WordPress block editor (AKA Gutenberg), which means you can mix-and-match and rearrange blocks to create any page layout you want.